I think it's kismet.
I decided to start a 12 week challenge to end my weight loss a week before I leave for vacation. Tomorrow we're leaving for a week away of fun...and I am sure there will be many challenges thrown my way.
Here's my tips and plans for staying healthy and on track while on vacation:
1. Plan ahead.
Here's what we're packing:
insulated lunch bags - perfect for packing a lunch while on excursions. Both a cost saver and a way to avoid any "quick" lunches at fast food places.
A cooler full of healthy snacks. Our vacation will be spending a few days at a Lake house, then going to Ottawa, then back to the Lake house. The initial drive will be about 4-5 hours (or 6-7, if you have my amazing sense of direction and luck with traffic). Larabars, almonds, baby carrots + plenty of water! It minimizes the need to make a "food" pit stop - which is what we often do.
A cook book (more on that later!)
Meal Plan - we learned this lesson the hard way! On our very first trip to NYC, we didn't do any planning and we were broke! We basically ate out at McDonald's for every meal - cheap, convenient and in New York City there are 3 on each block. It was great on our knockoff Prada wallets...no so great on our stomachs. We experienced MAJAH stomach aches and digestive issues. Never again! Meal planning is a great way to stay on track.
2. Get a Suite!
We're fortunate enough to have very generous and loving relatives that are allowing us to stay in their gorgeous downtown condo while their away on an Alaskan Cruise! This means that we will have a fully stocked kitchen at our disposal. Not only is it more cost effective to cook your own meals, but you can easily stay on track by making healthy, wholesome meals. This will be the easiest way for me to stay on TIU Plan!
That being said, not every vacation we go on is going to be at a relatives place (note to self - see if you can adopt some relatives in the Bahamas) - so what's a TIU Girl to do? Get a hotel suite!
The word suite may sound luxurious and therefore expensive - but in reality they only cost a bit more per night than your average hotel room. If you account for how much $$ you'll not be spending by eating in suite you may actually be saving money! This is where a cook book comes in handy!
Most suites come stocked with the bare necessities - cutlery, utensils, a couple pots/pans, plates/cups. The one we stayed out was so awesome it even came with glass Tupperware!
(Here's a pic of me prepping a four course meal for my lovie!)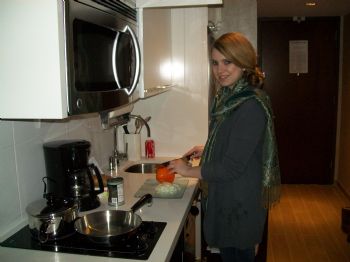 4. Research fitness plans prior to the Vacation
Vacationing often means time off from the exercise schedule. Not an option when I have a strict 3 month deadline! It's important to research what exercise options will be available to you while away.
A pair of running shoes doesn't take up that much room - I'm lucky enough that not only does Ottawa have some great trails for exercising, but the condo we're staying at has a gym room. I'll be bringing some workout outfits, free weights, and a mat.
If you are staying in a hotel room without a gym, load up your laptop with some exercise vids or print out the TIU workouts. It really doesn't take up that much space to get in a good workout. If you are flying somewhere - or don't have enough room to pack weights, purchasing a couple bottles of water, or cans of soup can improvise as inexpensive free weights.
I'm certainly going to indulge in eating out at least once during the week - but I'm going to make it worth it! Where we're staying there are some great restaurants that focus on local, vegetarian fare. We'll def. be hitting those places up!
There are always going to be hiccups along the way in your journey to ending the weight loss battle. Just keep in mind that as planned out as you may, things may not go according to plan. But being organized and prepared, you can minimize the effects of those hiccups.
I would love to hear what your tips are for staying healthy and on track while on vacation!